Client Corner- Dredging & Marine Consultants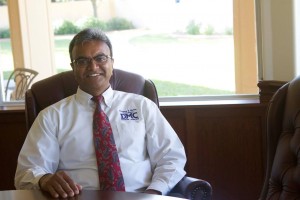 Learn about Florida Small Business Development Center (www.SBDCDaytona.com) and client Shailesh Patel from Dredging & Marine Consultants (www.DMCES.com):
1. DMC has been in business for 14 years, has 4 offices in Florida with its headquarters in Port Orange and employs 10 people. DMC is a civil engineering and environmental consulting company with a focus on navigation and restoration dredging projects, water front development and structures such as boardwalks, docks, piers, marinas, ramps, shoreline protection and wave breaks. Some local projects they've worked on include 1,100 linear feet seawall at the Daytona Speedway, Riverside Park in Port Orange and the fishing pier structure under the Veteran's Memorial Bridge on Orange Avenue.
2. Shailesh has been working with the FSBDC at Daytona State College for two years through the CEO Xchange program. He has also received assistance from George Tewari regarding how to better understand the implications of financial decisions, corporate culture and how to implement and bench-marking against competitors. Shailesh highly recommends other businesses to meet with the FSBDC Daytona team because you get to share information with like-minded individuals who provide a safe environment but hold you accountable.
3. Shailesh's entrepreneur advice is to never be shy. Always ask questions if you don't know how to do something or what it means. Also, have a good understanding of your numbers in your business and how to manage them. It's important to know the difference between cash flow, sales, profits, payroll expenses, etc.